Last week, News 9 at 4 host Melissa Maynarich had a baby, and in a nice piece of marketing, KWTV has decided to bring in "Mystery Anchors" to host one week of the program each week of February during her maternity leave. It kicked off with the great Jenifer Reynolds, who left her dogfighting ring for the week to do what so far has been an admirable job.
Who might be the "Mystery Anchors" we see the next few weeks? A few predictions/suggestion after the jump:
Mitch Jelniker
Mitch Jelniker was a personal favorite, and I would like to see him back if for no other reason than to once again see his glorious head of hair. You know that scene in Seinfeld where Jerry is trying to convince George to go out with one of Elaine's friends, and George wants to know if she has "thick, luscious, hair" and if you put your hand in it whether it would be "easy to get out?" Try to watch that scene again after reading this post without thinking of Mitch Jelniker.
The little brother from A Christmas Story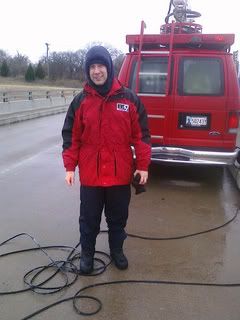 Hey, it's wasn't me who said it"¦
Rick Neuheisel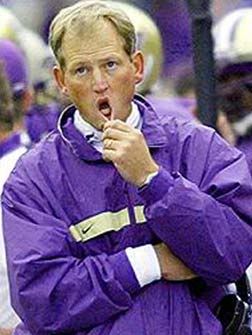 Word around the water cooler is that even beyond our known mystery anchor possibilities, Dean Blevins knows of a "mystery" mystery anchor who's name is in the mix. I think we all know who that must be.
The dude breastfeeding that baby in the Shape Fitness commercial
Not going to happen but this gives me the opportunity to write about how I don't know what the hell is up with this commercial. What the hell is up with this commercial?! The first time I saw it I thought I was on a bad acid trip or something. It's like a weirdass combination of a David Lynch film and a Flaming Lips video. Honestly I'm not sure if this is greatness or the worst thing to come out of Oklahoma since that guy from Earl's complained that his woman called him sens-u-tuv.
Jim Traber
"TO RECAP THE TOP STORY, POWER REMAINS OUT IN VARIOUS PLACES THROUGHOUT THE STATE! OFFICIALS ARE WORKING AROUND THE CLOCK TO GET EVERYTHING UP AND RUNNING! OK, OK, I'LL BE THE ONE TO SAY IT! THIS IS PATHETIC! THESE LOSERS BETTER HURRY UP AND FIX THE PROBLEM, BECAUSE THESE PEOPLE NEED POWER! PATHETIC! NOW LET'S GO TO DR. MARY ANN BAUMAN TO TELL US ABOUT THE IMPORTANCE OF CALCIUM IN PREVENTING OSTEOPOROSIS!"
Charlie Brooker
It's funny because it's true (NSFW language).