The first two stories involve an early five-finger discount on Christmas gifts. I hope we have more stories like these as the holidays approach. It makes doing my job much easier.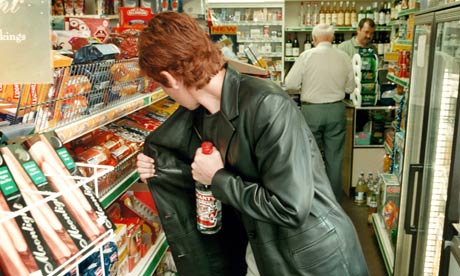 Here's a link to the video: Women-Accused-Of-Hiding-Merchandise-in-Body-Fat
Women hide stolen clothes, boots on their bodies
This one has made national news.
Police say a pair of full-figured women tried to steal $2,600 in clothing from an Edmond T.J. Maxx store by hiding the items on their bodies.
This isn't an example of going into a store and putting on a tie over the one you wore in or wearing out a shirt you "tried on" in the store. No, this is more of an example of lifting up your love handles and putting a cookware set underneath.
According to KFOR-TV, store security officers confronted Ailene Brown, 28, and Shmeco Thomas, 37, for allegedly stealing three pairs of jeans, boots, a wallet and gloves. The two were arrested and face felony charges.
If reports are true, these women had enough extra hiding spaces to conceal much of the women's wear department.
What interests me, apart from this novel method of alleged thievery, is how someone could find so much to steal at a T.J. Maxx. Even if you factor in boots, you'd have to try hard to hit the felony mark.
Journalists are trained (OK, told to by their editors) find ways to localize stories and find broader meaning and trends. This story from the Philadelphia Inquirer takes the prize for innovative use of fat-people wire stories from places they've never heard of.
The story cites the Edmond incident when it asks the Transportation Security Administration whether it is concerned about people hiding bombs and other undesirable carry-ons in their folds. The TSA spokeswoman says there is no danger of using one's body fat to get past security.
Now we know why they installed those full-body scanners. As Americans get bigger and bigger, they had no choice.
—
Oklahoma City police are looking for a man who allegedly stole seven video games and then attacked a Sears security guard with a utility knife, NewsOK reports.
Security guards chased the alleged perp into the parking lot at the store on south Western Avenue, where one tackled him and was cut on the elbow and throat. Luckily, the injuries only required stitches.
I'm only a little bit ashamed to admit that I love playing Call of Duty on my PS3. But it seems to me that if you're desperate enough to steal something, you'd steal something like jewelry or food or booze or cigarettes or a Lexus.
The only reason I can think of for stealing video games is for Christmas presents for the young-uns. Although I guess you could get some cash, since they cost $40-$60 a pop.
The alleged perp drove away in a gold or champagne-colored Cadillac. A vintage, tail-finned Caddy is the only car I can think of that can get away with being champagne-colored. As for gold, I'd say a 1960s Chevy Impala.
Since the police didn't identify the games the (alleged) crook took, here are my guesses, based on my game-bangin' experience:
-Grand Theft Auto: It doesn't matter which one you choose; every GTA teaches you to steal rides, beat ho's, set stuff on fire and jack people on the street for a few bucks. I'm sure knife fights are in there somewhere. Basically, GTA is the D league for being a hoodlum.
-Sims: The same goes for the Sims. I've never played it, so I can't say whether there's any law-breaking, but since the message seems to be buying stuff makes you happy, Sims earns a spot on the list.
-Oregon Trail: "You have died of dysentery." If this is a possibility, you're probably desperate enough to steal from Sears. Nothing against Sears, but it wouldn't be the first place I'd hit.
-Mortal Kombat: A dude who would stab a security guard with a utility knife so he can run away with some video games can probably grapple hook you dead or rip out your spine.
—
Here's a link to the video: Group-Meets-At-Capitol-to-Make-Bullying-Legislation
KFOR reports that a group met at the state Capitol Tuesday to protest bullying.
In Oklahoma and other uber-red states, protesting bullying, to some, represents a gay-rights conspiracy. The grassy-knoll logic goes like this: Gay students are often picked on, so protesting bullying is a politically correct way to usher in same-sex marriage.
Are you following me?
True, gay-rights advocates have joined the anti-bullying campaign around the country, and some children who face bullying do so because they are gay, but this isn't Don't Ask, Don't Tell for schoolchildren.
State Rep. Anastasia Pittman, an Oklahoma City Democrat, says she hopes to introduce legislation soon. She notes that suicide is the second leading cause of death among young Oklahomans.