Let's talk about the Thunder a little bit, readers. I think we can all agree that we're fans. It's great when a Thunder game comes on TV. I wish I could watch the Thunder on TV all the time. Hell, I'd even settle for watching the Norman Chrysler Jeep and Dodge commercial where Perk refuses to sing that googy song on a loop. But wouldn't it be even better if there were more Thunder-related program options? I think so. That's why I've made a list of possible Thunder television shows. These would most likely air on KSBI and make for some great family-oriented shows that all Thunder fans could enjoy. Plus, the production team from Thunderstruck is probably just itching to get the gang back together to film a heartwarming tale!
The Milkman's Babies
This show would be a reality show centered around the lives of Kendrick and Vanity Perkins, as well as their two sons. We'd get to see Kendrick eating all the foods he tweets about (like Philly cheese steaks and Waffle House), Kendrick Jr. win some Tae Kwon Do trophies, baby Kenxton look like a miniature version of Questlove (seriously, he does), and of course, Vanity terrorizing all the nail techs in the greater OKC Metro area.
–
Rumble and Digi
This show would start out with the theme song from Laverne and Shirley. Each week, we'd get to see the antics of Rumble the Bison and the Cox Digi as they share a downtown loft apartment. Sure, they argue about how Rumble's hair clogs up the bathtub drain and Digi always fills up the DVR with episodes of How It's Made and does that weird robot twerk dance, but through it all, they're just a couple of friends. Scott Brooks would have a cameo appearance as their landlord.
–
The Coyne and Collison Sound Explosion
Have you ever wondered what would happen if Wayne Coyne and Nick Collison met at Picasso's Café one day and decided to start an acoustic band and tour the country filming it all on one of the Flip cameras? Think Behind the Music, but with a tour! For the most part, it would probably be them hitting on bartenders in their early twenties and playing the same sort of crappy acoustic guitar music that I hear every time I go to a Norman house party.
–
KD is not Nice
Who doesn't love a hidden camera show? Who doesn't love watching other people get punked? In this show, KD would mess with various people on the street as it all gets caught on camera. Who doesn't want to see KD pull a dollar bill with a fishing pole while some old dude chases it? Plus, Nike would be on as the sponsor.
–
Spectacle with Russell Westbrook
If you go to my parents' house on a Sunday, you'll for sure see my dad in his chair dozing off to one of those "you won't believe that they made it out alive" shows that features footage of buildings collapsing, car chases, and people catching themselves on fire. Since Russell Westbrook wears spectacles, he could host a show featuring these various spectacles. The best part would be the faces he would make when he just can't believe what happened. It would be a lot like the face he makes when he can't believe the call an official just made.
–
Storm Chasing with the Storm Chasers
The Storm Chasers do a great job of keeping the crowd pumped during the game. Not only are they a lot of fun, but they also know where to buy the jankiest khaki cargo pants/shorts available. But have you ever wondered how real storm chasers stay pumped while running after tornadoes? Well, this show will go behind the scenes of some of the biggest storm chases in the state, and will show you how some guys with t-shirt slingshots keep the meteorologists pumped up.
–
Avec Classe with Serge Ibaka
If you follow Serge Ibaka on Twitter or Instagram, you're well aware of the "avec classe" hashtag. Basically, it's Paris talk for "with class." And who would be a better host for a classy show than Mr. Avec Classe himself? Think Lifestyles of the Rich and Famous, but in Oklahoma. Ibaka would take us on tours of homes in Gaillardia and Nichols Hills and show us just how classy those rich old white men who wear pleated front khaki shorts and OU polos all the time are.
–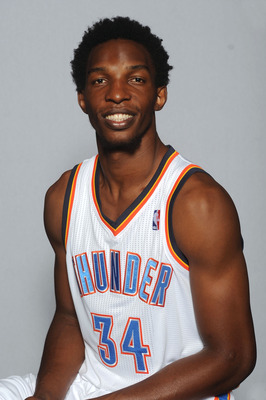 Flavor of Hasheem
We'd have to nominate Chelsea for that one.