Howdy, pardners! Let's do what we can to make this week a good one. Everybody's been sick all week, myself included. It sucks starting the year off and flu season is gnarly as hell. It gets worse than that. Many of my friends have been mourning the deaths of young people all week, namely Ezra Blum and Nathan Porter. I can't claim to have been close to these guys, but I know a lot of people who were, and they're hurting right now. Hug your friends, and be kind to everybody else.
Eating in Oklahoma
Let the cheese fries commence pic.twitter.com/A0Dq43RCS9

— Bryan Keating (@KOCOKeating) January 13, 2018
Every community needs a local version of Chili's. We could do without the creepy, racist logo though.
oklahoma copyediting: i wonder how many times i've verified that 'chuck wagon' is indeed two words or questioned the hyphen in 'rib-eye.'

— becky. (@beckycarman) January 11, 2018
Part of me thinks that we should make 'chickenfried' a compound word.
With everyone in the state of Oklahoma doing Whole 30 rn I am happy to say I will eat everyone's servings of cheese over the next month.

— Frank-enstein (@franamooney) January 9, 2018
Seriously, I know so many people doing this weird diet. You can't even eat beans or oatmeal, which seem to be about all I ever eat when I've tried out really restrictive diets. I'll take a pass on this fad.
–
Pave low-income homes, put up a parking lot
Circling The Plaza In Search Of Parking, a memoir

— Ben Swolo (@Brian_Pelts) January 13, 2018
Not to be that guy, but I'm gonna be that guy- ride your bike and you can park like wherever. I beat my friends down there most of the time cuz I never have to wait for somebody to leave their spot, as there is plentiful bike parking.
–
Tulsa?
There is apparently a CW Web series called "Freedom Fighters: The Ray" that is set in Tulsa and is about a gay superhero living in a dystopian future where the Nazis won WWII. The opening features a realistic Tulsa skyline adorned with swastikas. pic.twitter.com/dHDuX6zqmK

— Dylan Goforth (@DGoforth918) January 11, 2018
I've never heard of this show before, but now I'm insanely curious. Tulsa is one of the most segregated cities I've ever been to, so this seems like a believable alternate universe. Tulsans, leave your hate about how your city is the cultural capital of the state in the comments so I can ignore them.
–
Trae Young
Now that college football is done, it's that time of the year when everyone in Oklahoma is obligated to focus on… Trae Young:
Trae Young was dripping sauce 🔥

43 points (10 threes)
11 rebounds
7 assists pic.twitter.com/dE6UoM32MR

— Bleacher Report (@BleacherReport) January 13, 2018
He's the best college basketball player since Kevin Durant. I don't think we'll be as mad when Trae leaves for some other NBA Team.
–
And Now A Word From Our Sponsor
Add jalapeños if you need a little extra heat this winter. 🔥🍕 pic.twitter.com/UXf9zU0CcS

— Hideaway Pizza 🍕 (@hideawaypizza) January 14, 2018
Add a little ramekin of ranch dressing and you have the perfect meal.
–
The one thing I miss the most from my college days? Eating a large pepperoni and
#ThunderUp
I guess we care about the Thunder, too.
If things continue the way they appear, the team has peaked at just the right time, as they finally seem to be starting to figure it all out (well, except for the lack of defense now that Andre Roberson has been sitting out). We'll be doing a weekly feature of our favorite Thunder tweets for the rest of the season. If you see any that we just have to know about, tag us @TLOMMT!
RUSSpectacular#NBAVote Russell Westbrook pic.twitter.com/TDD8xYj3Wi

— OKC THUNDER (@okcthunder) January 13, 2018
Do the Thunder really need to pander for Russ to be an All-Star? By all means, keep this clip, because his highlight reel for his induction to the NBA Hall of Fame will be epic. Let's hope it is the same year as Mr. Cupcake, who's very name I refuse to say. (-Steve)
Ever since I started watching basketball I've been a fan of the OKC Thunder. KD and Harden both left and we were blessed with the MVP aka Russell Westbrook. Today I got the chance to actually meet him❤️ #ThunderUp pic.twitter.com/91KzKkT2vB

— HOODIE AMAAN (@baledina) January 15, 2018
I saw the sign for this meet-and-greet in the Barnes and Noble on north May last Tuesday. Part of me wanted to participate, not only to get number zero's autograph, but meet him in person instead of being creepy and following him around at Top Golf. The only problem is having to wait in line with more crazed fans. Nope. (-Steve)
–
Nerds unite! If you never thought there was a place for you in professional sports, look no further. As you can see from this insane chart that makes basketball not fun… (sleeping drool). (-Steve)
"Hi Mr. will you take this photo for me" -10 yr old girl "Uhhh sure, why not" 😆🤫#shouldwetellher @okcthunder pic.twitter.com/vEjOTqm4mD

— Clint Chelf (@Cchelf10) January 10, 2018
If she's 10 years-old, then she probably doesn't remember the James Harden trade. I envy the youth sometimes.
–
Hero of the Week
@notthefakeSVP Thank you for the honor of being the best thing you saw today. I thought that I was going to make the basket too, but @OU_MBBall won tonight so that's all that matters #LiveOnUniversity #BoomerSooner pic.twitter.com/JtXlr5ROQ9

— David Bartell (@David_Bartell95) January 10, 2018
They should've given this guy whatever the prize was anyways. The thought of both taking a half-court shot in front of an arena of people AND the thought of taking my shirt off in front of an arena of people are terrifying enough on their own. This guy did both. He's got my respect.
–
Under the Radar
Man is inside the Bricktown Circle K, eating food he hasn't paid for.

— Robert Moose (@RobertMoose) January 13, 2018
Pretty sure it was the Encino Man.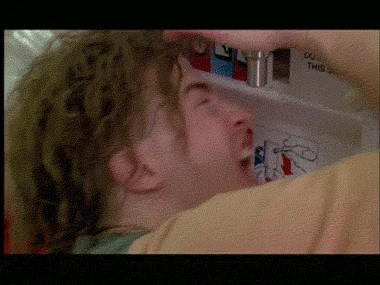 –
Dear God, Abigail Ogle is going to rule the world someday
♥️WOW! Who else saw the beautiful sunrise this morning? God was showing off!

(Thanks to Tony in Stillwater for the picture.) pic.twitter.com/l2GYWm3EYK

— Abigail Ogle (@KOCOAbigail) January 9, 2018
Once again, it's weird to see Abigail Ogle encroach on Emily Sutton's sunset / sunrise beat. Is Abigail Ogle positioning herself for a weather gig? It would be the next stop in her quest for world domination.
–
Dean Blevins Memorial Tweet of the Week featuring Dean Blevins
Always good to see Eddie Sutton smiling along Eddie Sutton Court …. but his alma mater is struggling in game against beatable Texas. @OSUMBB @NEWS9 @NewsOn6 pic.twitter.com/pk7LrfxCo7

— Dean Blevins (@DeanBlevins) January 13, 2018
Wow. Nothing makes you feel older than old people looking old. I say that every night I watch Dean on television.