St. Patrick's Day is this Sunday, and we could not be more excited! Our green hair spray, obnoxiously large green bow tie, and borderline-offensive jokes about Irish drinking habits have been on standby since Christmas. And after months of waiting, it's finally here. Our mouths are watering at the thought of green beer and corned beef.
As a service to you, our dear reader, we rounded up seven of the hottest happenings around OKC to debut that Irish jig you've been working on since last year.
1. Bricktown St. Patrick's Day Block Party* | March 16th & 17th
One of Oklahoma City's longest St. Patrick's Day traditions continues this weekend with a two-day, outdoor festival. The free, all-ages, pet-friendly celebration kicks off at 1 p.m on both days and rages 'til the wee hours o' the morning – or midnight, but whatever. Wee sounds more Irishy.
Green party beads will be available while supplies last, and live music from across the genre-spectrum will be cranked out at an impressive volume. There's a reason the Bricktown St. Patrick's Day Block Party continues to be the largest celebration of its kind in Downtown OKC for 28 years and counting. And this year, you have two full days to revel in it.
–
2. McNellie's OKC Annual St Patrick's Day Celebration | March 16th & 17th
Our burgeoning Midtown district is well-represented every St. Patrick's Day, with McNellie's good old-fashioned, beer-drenched block party. Everyone's favorite Irish Pub will start the day-drinking at 10:00 in the o'morning on Sunday. Can't wait for actual St. Patrick's Day to begin imbibing? Start the night before at their Patio Party, which ramps up at 6 p.m. Saturday. And since drinking on an empty stomach is never recommended, don't forget to grab some yummy eats from their selection of tasty bar food. 
–
3. OKC Energy FC O'City Parade & Match* | March 16th
Our resident pro-football club is hosting one raucous little parade ahead of their season-opening match against the Las Vegas Lights on Saturday. The parade will start downtown at Myriad Gardens and proceed up Walker Ave., featuring bagpipes, the local Irish flavor of many of OKC's most prominent organizations, and every shade of green visible to the human eye. After the parade wraps up, take in the match before dousing yourself in alcohol at your favorite pub. This is the perfect opening of what promises to be a fantastic season of football. (Soccer, but we are really leaning into that Irish linguistic thing today.)
–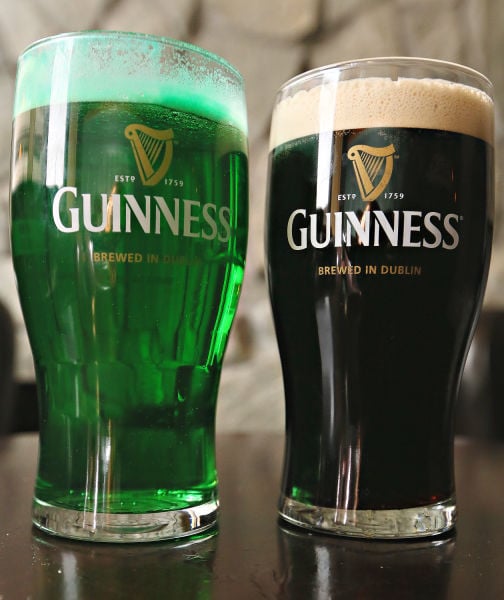 4. Lucky's St. Patrick's Day Pub Crawl | March 16th
This particular pub crawl is a "Choose Your Own Path to Drunkeness." Rather than 500 of you storming a bar and demanding libations, you can select where to start, where to go next, and where to end. No cover fees, two free drinks for the night, and exclusive drink specials at eight of the best bars in OKC, including our good friends at Anchor Down. If, after all that, you are still standing, good friggin job! Finish up the night with Lucky's Pub Crawl's epic after-party.  
–
5. Lucky Coyote 5K | March 16th
Because all the streets in Downtown OKC will be obscured by no less than forty-two parades, this 5K race, sponsored by Red Coyote, will be taking place at The Patriarch Craft Beer House on Saturday. It is a wonderful way to justify all those empty beer and scotch egg-flavored calories. Get up at the ass-crack of dawn, pop on those running shoes, and slog your way through 3-ish miles of really earning your free COOP beer at the finish line. Because day-drinking after five kilometers of masochism is A-OK on St. Patrick's day.
–
6. (405) Brewing Co. – St. Paddy's Day Stout Release Party | March 14th – 17th
You know what this holiday needs? More beer! New beer. Local beer. (405) Brewing Co. has us covered on all fronts. The local brewery is really making the most of the new, less archaic liquor laws in our state and is debuting three new craft beers this holiday weekend. Food trucks and on-tap beer will flow freely over the three-day event, capping off with a St. Patrick's Day boozefest to top them all.
–
7. Mass at St. Patrick's Catholic Church | March 16th & 17th
After all the debauchery, gluttony and other host of sins of the weekend, you'll have plenty to confess. And what better way to make a half-assed attempt at saving your soul than to hit up Sunday mass at the namesake church of the holiday! Get yourself a little balm of the Irish masses, before continuing down your chosen path of inevitable self-destruction. Mass is held at St. Patrick's on Saturday and Sunday, in case a half-assed attempt simply won't do. We think of this as going The Full Eucharist. 
–
If you have other plans for celebrating St. Patrick's Day (or for saving your soul), drop it in the comments.
*These businesses are paid Lost Ogle advertisers. We'd like to thank them for helping us get rich.